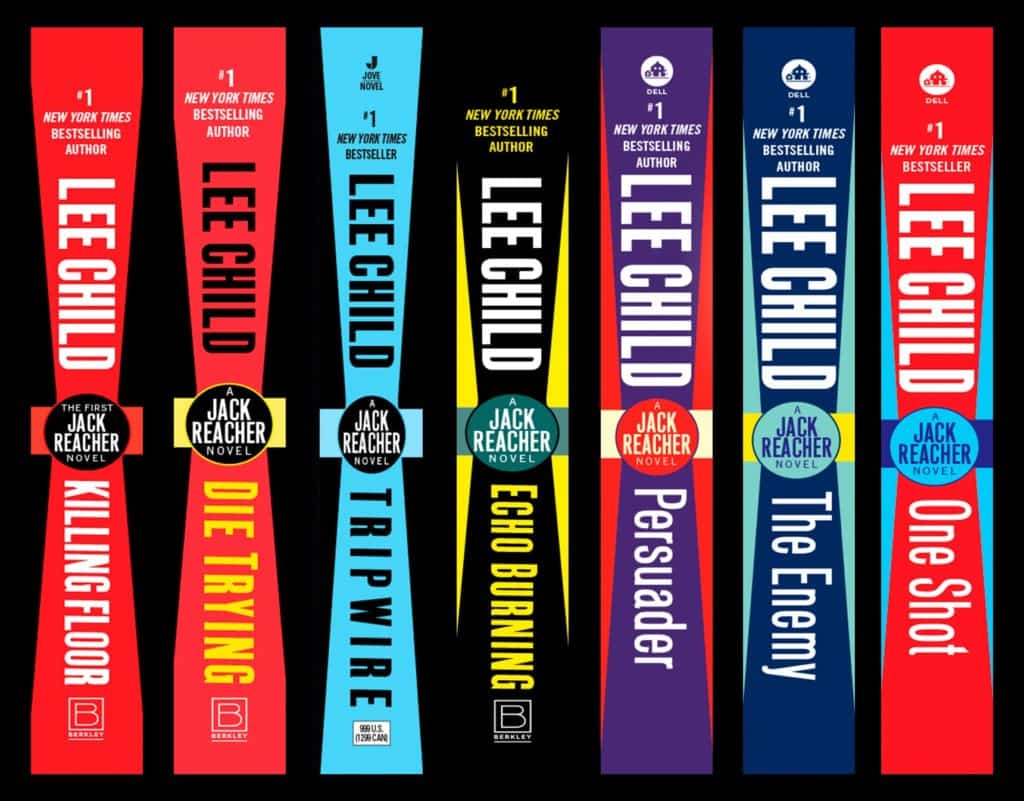 The Jack Reacher Books in Order
The Reacher books can be read in any order, but here they are in the order in which they were written.
KILLING FLOOR
Jack Reacher gets off a bus in a small town in Georgia. And is thrown into the county jail, for a murder he didn't commit.
DIE TRYING
Reacher is locked in a van with a woman claiming to be FBI. And ferried right across America into a brand new country.
TRIPWIRE
Reacher is digging swimming pools in Key West when a detective comes round asking questions. Then the detective turns up dead.
RUNNING BLIND
Two naked women found dead in a bath filled with paint. Both victims of a man just like Reacher.
In the heat of Texas, Reacher meets a young woman whose husband is in jail. When he is released, he will kill her.
WITHOUT FAIL
A Washington woman asks Reacher for help. Her job? Protecting the Vice President.
PERSUADER
A kidnapping in Boston. A cop dies. Has Reacher lost his sense of right and wrong?
THE ENEMY
Back in Reacher's army days. a general is found dead on his watch.
ONE SHOT
A lone sniper shoots five people dead in a heartland city. But the accused guy says, 'Get Reacher'.
THE HARD WAY
A coffee on a busy New York street leads to a shoot-out three thousand miles away in the Norfolk countryside.
BAD LUCK AND TROUBLE
One of Reacher's buddies has shown up dead in the California desert, and Reacher must put his old army unit back together.
NOTHING TO LOSE
Reacher crosses the line between a town called Hope and one named Despair.
GONE TOMORROW
On the New York subway, Reacher counts down the twelve tell-tale signs of a suicide bomber.
61 HOURS
In freezing South Dakota, Reacher hitches a lift on a bus heading for trouble.
WORTH DYING FOR
Reacher runs into a clan that's terrifying the Nebraska locals, but it's the unsolved case of a missing child that he can't let go.
THE AFFAIR
Six months before the events in Killing Floor, Major Jack Reacher of the US Military Police goes undercover in Mississippi, to investigate a murder.
A WANTED MAN
A freshly-busted nose makes it difficult for Reacher to hitch a ride. When at last he's picked up by two men and a woman, it soon becomes clear they have something to hide . . .
NEVER GO BACK
When Reacher returns to his old Virginia headquarters he is accused of a sixteen-year-old homicide and hears these words: 'You're back in the army, Major. And your ass is mine.'
PERSONAL
Someone has taken a shot at the French president. Only one man could have done it – and Reacher is the one man who can find him.
MAKE ME
At a remote railroad stop on the prairie called Mother's Rest, Jack Reacher finds a town full of silent, watchful people, and descends into the heart of darkness.
NIGHT SCHOOL
The twenty-first in the series takes Reacher back to his army days, but this time he's not in uniform. In Hamburg, trusted sergeant Frances Neagley at his side, he must confront a terrifying new enemy.
THE MIDNIGHT LINE
Reacher tracks a female officer's class ring back to its owner in the deserted wilds of Wyoming, on a raw quest for simple justice.
PAST TENSE
Deep in the New England woods, a young couple are stranded at a lonely motel, trapped in a game of life and death. Lucky for them, Reacher has just arrived in the next town over.
BLUE MOON
In a nameless city, two rival criminal gangs are competing for control. But they hadn't counted on Jack Reacher arriving on their turf.
THE SENTINEL
An unassuming town has been shut down by a cyber attack. At the center is average IT guy, Rusty Rutherford. Reacher steps in just as Rusty is being kidnapped . . .